CALENDAR OF EXHIBITIONS 2018
EXHIBITIONS WITH SURREY SCULPTURE SOCIETY
All information about SSS exhibitions, venue, links etc please visit website
BIRTLEY HOUSE
Exhibition: 4 - 28 May Indoor, Outdoor, 2D, Demonstrations and School visits.
Address: Birtley Rd, Bramley, Guildford GU5 0LB
Phone: 01483 892055 Website: www.birtleyhouse.co.uk
HYDE HALL
Exhibition: 22 June - 22 July Indoor and Outdoor.
Address: Creephedge Ln, Chelmsford CM3 8ET Hours: 10am–4pm
Phone: 01245 400256 Website: www.rhs.org.uk/gardens/hyde-hall

RHS GARDEN WISLEY
Exhibition: 18th August – 23rd September Hours: The Garden opens at 10am on weekdays, 9am at weekends and bank holidays. Closes 6pm, last entry time 5pm.
By road: 20 miles SW of London, on the A3, junction 10 of the M25. Follow the tourist attraction brown flower symbol on signposts. By rail: from London Waterloo to West Byfleet or Woking. Parking is free at the garden.
RHS Members free, Adults £7.50, Children (6 - 16) £2.
Website: www.rhs.org.uk/wisley-garden
SAVILL GARDEN
Exhibition: 26 September - 5th November
Address: Wick Lane, Englefield Green TW20 0UU
Hours: Open 10am–6pm
Phone: 01245 400256 Website: www.windsorgreatpark.co.uk/savillgarden

LANDMARK
Exhibition: 22nd - 25th November
Address: Landmark Arts Centre, Ferry Road, Teddington TW11 9NN
Hours: Sat – Sun 10 – 6pm
Phone: 010 8977 7558 Website: www.landmarkartscentre.org

Exhibitions with Surrey Artists Open Studios
I will be demonstrating sculpture methods and exhibiting at Whitehanger, Marley Lane, Haslemere, Surrey GU27 3PY
Visit SAOS website for details
OTHER VENUES AND EXHIBITIONS
AppART
Exhibition: Good Friday 30th March - 14th April 2018
Address: Prior's Field School, Godalming GU7 2RH
Website: www.appartonline.co.uk

THE BOTHY VINEYARD
Exhibition: 8th - 23rd September
Hours: 11am – 6pm
Address: Frilford Heath, Abingdon, Oxfordshire OX13 6QW
Phone: 01865 390067 Website: www.bothyvineyard.co.uk
DELAMORE ARTS 18
Exhibition: on throughout May
Hours: 10:30am – 4:30pm
Address: Delamore House, Cornwood, Ivybridge PL21 9QT
Phone: 01752 837663 Website: www.delamore.com
SCULPTURE AT KINGHAM LODGE
Exhibition: 5th - 13th May 2018
Hours: 10am - 5pm every day
Address: West End, Kingham, Chipping Norton OX7 6YL
Phone: 01608 658226 Website: www.sculptureatkinghamlodge.com
HIGH CLANDON ESTATE VINEYARD
Exhibition: 23rd May – 10th June
Address: Unnamed Road, East Clandon, Guildford GU4 7RP
Phone: 01483 225660 Website: www.highclandon.co.uk

Galleries showing examples of my work
Lingwood Samuel Art Gallery (website)  12 Church Street Godalming GU7 1EH

Gallery 41 (website) – 41 East Street, Corfe Castle, Wareham, Dorset BH20 5EE
01929 480095
PAST EXHIBITIONS
Young London Sculptors:
Tavistock Park
Waterlow Park
As a member of Surrey Sculpture Society: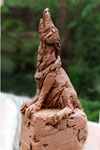 Chilworth Manor
Guildford House
Fulham Palace
Guildford Cathedral
Osterley Park
Petworth House
Painshill Park
RiverHouse Gallery
Savill Garden
Borde Hill Gardens
Polesden Lacey
Loseley Manor
Royal Horticultural Gardens, Wisley
University of Surrey, Lewis Elton Gallery:
Led to the University commissioning Three Life sized Wolves to be cast in Bronze for the Lake Lawn. These were installed in 2007.
Commission: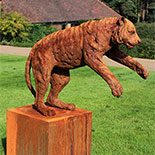 ZSL London Zoo commissioned a 10 day old Sumatran Tiger and a 9 month old Adolescent Tiger to go into the new 'Tiger Terrority' which was opened in March 2013 by HRH Duke of Edinburgh.